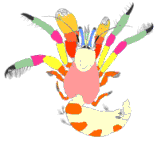 Hermit crabs Calcinus of the world (Anomura, Diogenidae)
Joseph POUPIN
---
Implicit Attributes
Unless indicated otherwise, the following attributes are implicit throughout the descriptions, except where the characters concerned are inapplicable.
Shield and cephalic appendages. - Species of normal size, i.e. shield length often greater than 2–3 mm.
Chelipeds (P1). - Upper margin of right chela tuberculated or spinous. Outer face of left palm regularly convex.
Ambulatory legs (P2-P3). - Dorsolateral margins of P3 propodi rounded. Ventral margin of P3 dactyl with less than 10 spines.
Coloration. - Chela uniformly colored, often grading to paler distally.
---
Cite this publication as: J. Poupin (2003, Internet). - Hermit crabs Calcinus of the world (Anomura, Diogenidae). Descriptions, Illustrations, Identification, and Information Retrieval, using the DELTA format.