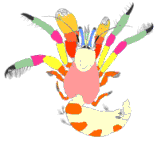 Hermit crabs Calcinus of the world (Anomura: Diogenidae)
Joseph POUPIN
---
Calcinus minutus Buitendijk, 1937
Illustrations. - • Australian specimen (copyright G. Morgan). Photograph G. Morgan.
References. - Calcinus minutus Buitendijk, 1937: 269 (type locality, Indonesia).
Calcinus minutus - Baba, 1982: 64 (Palau). - Takeda, 1982: 61 (Japan). - Monteforte, 1984: 172 (Moorea, French Polynesia ; cf. remarks). - Wooster, 1984: 152 (Mariana). - Haig & Ball, 1988: 160 (Indonesia). - Nomura et al., 1988: 112 (Japan). - Morgan, 1991: 894, (Christmas and Cocos; eastern and western Australia). - Yu & Foo, 1991: 35 (Taiwan). - Takeda, 1994: 194 (Japan). - Asakura, 1995: 356 (Japan). - Tudge, 1995: 14 (eastern Australia). - Gosliner et al., 1996: 223 (Salomon). - Poupin, 1997: 704 (?French Polynesia; cf. remarks). - Shih, 1998: 90, 91 (Taiwan). - Kawamoto & Okuno, 2003: 77 (Okinawa, Japan).
Unpublished records - several specimens, Loyalty Is., LIFOU Expedition, November 2000, det. J. Poupin (MNHN, Paris).
Shield and cephalic appendages. - Ocular scale with several terminal spines (1–4, usually 2 spines).
Chelipeds (P1). - Upper margin of right chela tuberculated or spinous. Outer face of left palm regularly convex.
Ambulatory legs (P2-P3). - Distal pilosity of P3 weak, similar to distal P2.
Armament of telson. - Left lobe of telson with several spines disposed on posterior margin only. Right lobe with several spines.
Coloration. - Shield white or cream. Ocular peduncle uniformly colored. Detailed coloration of ocular peduncle: white to pale orange. Distal antennular peduncle white to cream (basal half of ultimate segment and penultimate segment dark green-brown; flagella orange-green). Distal antennal peduncle green (basal segment cream and green; flagellum pale orange). Chela uniformly colored, often grading to paler distally (whole chela and carpus white). Ambulatory legs (P2 & P3) without ring(s) or spot(s) (pale yellow, with bright orange color on dactyls and distal propodi).
Habitat. - Facultative associates of corals (e.g. Pocillopora, Acropora), shallow-waters.
Geographic distribution. - Eastern Indian Ocean: Christmas & Cocos Islands; western and eastern Australia; Vietnam; Taiwan; Japan; New Guinea; Loyalty Is.; Salomon; Palau; Caroline; Mariana; Samoa; ?French Polynesia (cf. remarks). Indo-West Pacific.
Remarks. - Presence of this species in French Polynesia is a matter of speculation. Calcinus minutus has been recorded from Society Islands by Monteforte (thesis; 1984) and his specimens have been unfortunately lost. It is possible that they belonged in fact to C. nitidus, a sibling species of C. minutus, distinct only by its coloration and omnipresent around the Society Islands.
---
Cite this publication as: J. Poupin (2003, Internet). - Hermit crabs Calcinus of the world (Anomura, Diogenidae). Descriptions, Illustrations, Identification, and Information Retrieval, using the DELTA format.